October 4, 2018
Line 3 Pipeline: An Illegal Approval, a Powerful Resistance
On a bright summer morning in downtown St. Paul, there was a sense of hope in the air. The day was June 29, the fourth and final day the Public Utilities Commission would discuss the Line 3 pipeline replacement project before making their decision. They held the power to grant or deny a Certificate of a Need and Route Permit for the project.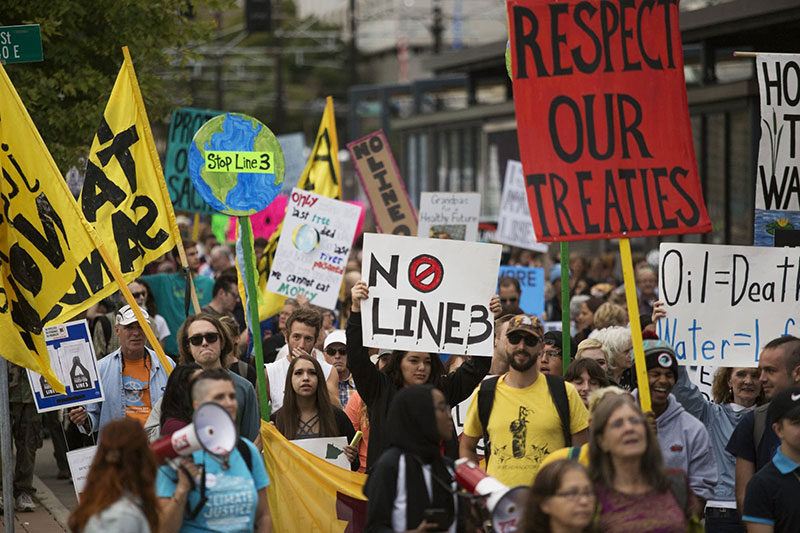 I was newly interning with MN350, an environmental non-profit focused on fighting climate change. I had joined the "Pipeline Resistance" arm of MN350 just a few days before and was just beginning to understand the breadth of the resistance movement. For over five years, environmental advocacy groups, indigenous leaders, religious groups, and countless others have opposed the pipeline through every legal avenue available to them, building a vast network of fighters.
The line to enter the PUC meeting room wrapped around the corner of the building as people waited for their tickets. Supporters of the project wore bright yellow "Minnesotans for Line 3" T-shirts. Opponents held large, screen-printed signs that read "Stop Line 3," "Water is Life," and "Love Water Not Oil."
I allied myself with a group wearing blue handkerchiefs and supportive smiles. Fellow pipeline fighters. The sense of community was strong during that last, long morning we waited for the decision. One pipeline fighter leaned against a pillar with his guitar and sang an Arlo Guthrie-style resistance song.
In the line, I spoke to Lynn Rice, a member of the White Earth Nation with a warm demeanor. She has fought against the pipeline to protect wild rice, a resource that is sacred to her and her family. "A lot of Native Americans rely on wild rice beds: it's their lifeline," she said. "I love wild rice—it's part of tradition in my family. The elders are gone, so it's up to me to protect it."
Other opponents to the project exchanged hugs and words of encouragement, despite many expressing doubts the day before about the final decision going in our favor. The commissioners had spent several hours discussing the route's journey through indigenous reservation land and ceded territory, trying to determine which route was 'least bad.' As if there are some bodies of water, some swaths of forest, some pieces of homeland, that are more expendable than others.
Enbridge, the company proposing the project, preferred a route that would carve a 337-mile route through Minnesota, crossing through the Mississippi headwaters and twice across the Mississippi River. The Mississippi headwaters are the heart of the state's water resources, connecting to thousands of lakes, streams, and rivers. If the new Line 3 ruptures, then these waters could carry oil across the state, polluting wetlands, wild rice beds, forests and farmland. Enbridge's pipelines have leaked over 6.8 million gallons of oil since 1999.
Oil leaks threaten the livelihoods of the Ojibwe because the pipeline route passes through ceded territory. This is territory where the Ojibwe people have the right to hunt, fish, and harvest wild rice. These rights are protected by law through the 1855 Treaty. The Line 3 route is in direct violation of this treaty. As the sun rose higher and more gathered outside of the PUC building, pipeline fighters erected a 20-foot tripod on 7th Plaza East with a sign that read "Expect Resistance."
When we finally entered the hearing room, there was a sense of nervous energy among the pipeline fighters. One woman had brought her young daughter to the meetings and was showing the restless toddler how to draw blue water droplets on scraps of paper.
For the last four days before the PUC decision, many parties had intervened against the project, including Honor the Earth, the Northern Water Alliance, the Sierra Club, Friends of the Headwaters, and the Youth Climate Intervenors. The Youth Climate Intervenors are a group of 13 young people formed to oppose Line 3 and represent young and future generations who will bear the brunt of climate change. Five sovereign indigenous nations intervened: the White Earth, Mille Lacs, Fond du Lac, Leech Lake, and Red Lake Bands of Ojibwe. The Dyrdals, who own property along the pipeline route, also spoke out at the meetings. For these parties, the decision meetings were the culmination of more than a year of work plus countless hearings and filings; all to build the case to stop Line 3.
When it came time for the commissioners to make the decision, a silence fell over the room. They gave lengthy statements, acknowledging that a new pipeline would perpetuate climate change with huge consequences for people around the world. They also acknowledged that Line 3 would continue the cycle of oppression practiced by this country for hundreds of years, putting native lives at greatest risk. Two of the commissioners openly wept, revealing that they had at least some understanding of these consequences.
Finally, they voted. In a 5-0 decision, they approved the Certificate of Need for the pipeline. Through their tears, the commissioners had sided with the corporation.
They also granted a permit for Enbridge's preferred route, which takes the least effort to avoid ceded territory, reservation land, and Minnesota waters. To make matters worse, the PUC gave the Fond du Lac Band of Ojibwe a 'Sophie's choice.' The Fond du Lac Band must now choose to sacrifice one of two things for the pipeline: a piece of their reservation land or Sandy Lake, a site that is deeply sacred to them.
The commissioners' decision was not only unjustified, but insulting. After openly admitting that the pipeline would be bad for the climate, for our local environment, for indigenous people, and for all Minnesotans, they did nothing to stop it. Commissioner Lipschultz alluded to the real reason many of them made their decision: that Enbridge was refusing to clean up the old Line 3 before getting their shiny new toy.
One pipeline fighter rose from the crowd and shouted: "Shame on you, you cowards!"
Many were in tears, hugging one another, seemingly in shock. Outside the building, people gathered and tried to make sense of what had just happened. Leaders of the movement quickly prepared for a press conference.
Among these leaders was the famous activist, environmentalist, and writer Winona LaDuke. LaDuke has been a figure of social justice for over three decades. She founded Honor the Earth, which has been fighting Line 3 since the beginning.
"We are standing on the right side of history, because someone has to stand for the water, someone has to stand for future generations," LaDuke said, the PUC building at her back. "It is egregious what they have done, not only to the Ojibwe people, but to the people of Minnesota. They have taken our Sandy Lake—which is the equivalent of the Wounded Knee Massacre of Minnesota—and said that they will lay pipe across."
Tania Aubid, a member of the Mille Lacs Band of Ojibwe, entered the circle of press people holding cameras and microphones who were in turn surrounded by pipeline fighters. "We are claiming what is rightfully ours, and those are our treaty territories," Aubid said. "They crossed that line, and we're going to defend it."
The PUC's decision sparked a flurry of actions resisting the pipeline. The day after, protestors went north to where the pipeline route crosses Highway 23, just a stone's throw from pre-construction for the line.
LaDuke spoke at the protest. "We have said it is time to welcome Water Protectors." she said. "It is time to come to Minnesota to protect the water because we value it. We are saying it is time to come now, to begin to learn about our beautiful water, our Anishinaabe people, our wild rice, and to stand with us, because we will all need it… We are not backing down. We are here, and we will stand here, because we have been here for 10,000 years. We're the home team, and we're not going anywhere."
On July 1, protestors returned to the Twin Cities. Roughly 300 people gathered at Governor Dayton's office to protest the pipeline and stand alongside the Ojibwe people. Rosie Whipple, a member of Honor the Earth and a Youth Climate Intervenor, emphasized that Line 3 is a human rights issue as well as an environmental one.
"This pipeline is more than just oil leaking," Whipple said. "People's lives are at risk. There are young indigenous girls who live along this line who are in danger of being murdered, raped, and kidnapped because of this pipeline. When they build their 'Man Camps' and construction workers come to the reservations and steal these young girls. It's happened time and time again, and I'm tired of it."
Whipple was referring to the influx of mostly male workers to areas of pipeline construction in North Dakota. These 'Man Camps' have been associated with increasing sexual violence against Native women and girls living on reservations nearby. The Line 3 route crosses through or near the Fond du Lac, White Earth, Leech Lake, Mille Lacs, and Red Lake reservations, where these violent trends would likely be repeated.
At the protest, MN350's Midwest Tar Sands Coordinator Andy Pearson reminded us that hope is not lost, even in the face of these atrocities. These past five years have allowed the resistance movement to build a solid record to fight the pipeline in legal arenas.
"We thank this governor for what he's done, and we ask that he stands with us," said Pearson. "We believe that we can have a Minnesota that is kind to people, that respects rights, that doesn't decide to condemn future generations to climate chaos, that doesn't decide to take away and trample on the rights of Native folks, like this government has been doing for centuries."
Governor Mark Dayton has promised that the state government will uphold Minnesota's high standards of environmental protection when deciding on the 29 remaining permit approvals that Enbridge needs before building. In a public statement, the Governor stood with his Department of Commerce, which recommended that the PUC deny the Certificate of Need. However, pipeline resisters have called Dayton to do more, and to openly reject Line 3 before it is too late.
Some may look at this fight against Line 3 and dismiss it as just another battle lost in the war. It's true that climate change is already under way, in the fires of California, the heatwaves of North America, northern Europe, and Africa.
But that is also why these pipeline fights are so important. If we can stop pipelines like Line 3, then we can slow the flow of oil into our markets. We can stand a chance against climate change and further the larger movement of people calling for us to invest in renewables, to move away from fossil fuels once and for all. This may sound like an unlikely future, especially when corporations like Enbridge will do everything in their power to profit from environmental degradation and human suffering.
Still, there are many places to find hope.
Market trends have been shifting away from fossil fuels, making renewable energy investments more lucrative. The demand for oil is dropping fast, with Minnesota's petroleum use having fallen 19% since 2004. Midwest refineries are already at full capacity and fossil fuels are being phased out by renewable energy. Renewable energy is growing faster in Minnesota than fossil fuels, producing jobs at a faster rate than any sector of the fossil fuel industry.
The Youth Climate Intervenor argue that future generations will be born into a world with more volatile, extreme climate conditions if we do not take drastic efforts now to reduce greenhouse gas emissions. It is young peoples' resilience against the forces perpetuating climate change that should give us hope.
On the road forward, on-the-ground, non-violent direct action has the potential to stop or delay construction of the pipeline. No one wants to put their body on the line or to relive the police brutality suffered at the Standing Rock Reservation during the fight against the Dakota Access Pipeline. But this type of resistance may become necessary if Enbridge begins construction. Resistance camps and other activists who are putting their bodies on the line are asking for support.
"I want to make it very clear that we tried to stop this without having to go to the level of civil disobedience and resistance," said Youth Climate Intervenor Margaret Breen. "This was not ever something that… activists in Minnesota wanted to ever have to do, and it's the fact that the Public Utilities Commission forced us to do this."
Honor the Earth and Friends of the Headwaters are working to delay construction through the appeals process, challenging the project's Environmental Impact Statement and eventually its Certificate of Need so that the PUC's decision comes under legal scrutiny. The fight will continue in the courts, in the streets of the Twin Cities and the woods of the North.
The movement gains power in numbers; and in having people with a wide array of skills working together towards a common goal. Leaders in the movement will continue with base-building to raise public awareness, educating Minnesotans of the harms posed by the pipeline. Anyone who decides this fight is worth fighting can find a place in the movement, including through supportive roles. You can become a part of the movement by learning about Line 3, hosting actions or events in your community, supporting resistance camps, or just becoming more educated about the issue.  
MN350 is calling all who believe in stopping this pipeline to sign the Pledge of Resistance. All are invited to sign to the pledge who support the Stop Line 3 campaign or who want to become further involved in the movement. Visit StopLine3.org to learn more about the fight and how you can help.
About the author: Julia Fritz-Endres is originally from the Boston area and is now a senior at Macalester College in St. Paul, MN. She is pursuing a degree in Environmental Studies with a focus on Climate Science and Policy and a minor in Creative Writing. She is passionate about climate change issues and is active on MN350's Pipeline Resistance Team.