May 8, 2019
How the Youth Climate Movement Seeds Sustainable Power
The route to a just and aligned U.S. climate movement includes innumerable paths, with youth from cities to rural areas, from the North to the South, from the East to the West. We know that the work is never done. Still, we recognize that it's often important to take time to step back. That's why Power Shift Network makes time each year to bring our members together, take a hard look at our movement, and ask big questions.
Our Network is composed of small student groups, local grassroots organizations, to the largest national organizations. The 84 groups that comprise the network are working across the movement ecosystem, from championing a Green New Deal, getting young people involved in the political process, and stopping fossil fuel infrastructure at the source, to supporting and training indigenous and frontline leaders, and energy democracy, like winning community control of local energy supply. Together, we will mobilize the collective power of young people to mitigate climate change and create a just, clean energy future and resilient, thriving communities for all.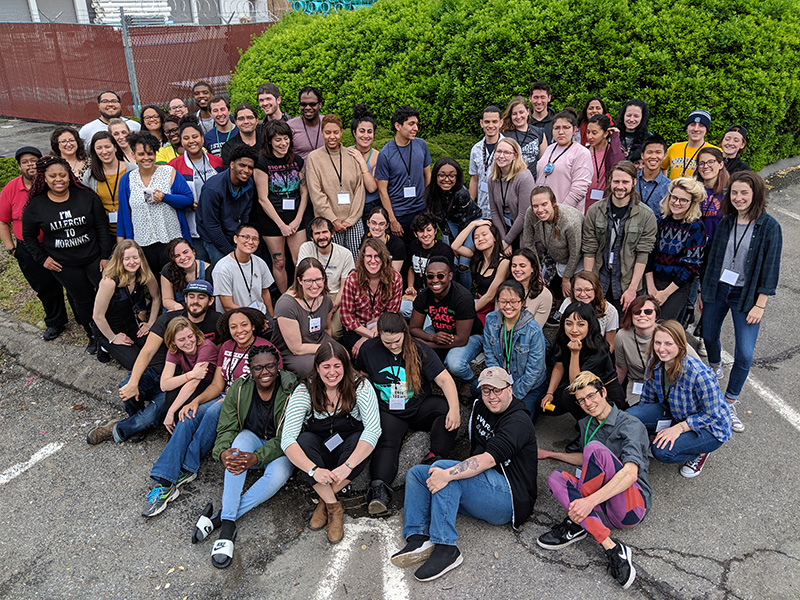 70 people affiliated with almost 70 different member organizations gathered right outside of DC this past April for our 2019 Annual Meeting. We hold these meetings each year, in order to ground ourselves in the work of the network, to build and deepen our connections, and to think through what's important to our work moving forward—so that we can not only show up for each other, but build together. This past Meeting, we addressed important questions like, What would a winning, intersectional movement that centers youth and frontline communities consist of? What steps can we take to build toward that over the next five years?
This Annual Meeting was particularly unique because we were joined not only by our Network member organizations, but also by youth fellows in our program work, including youth affiliated with the Line 3 fight, our Community College fellowship program, and young people from both our first and second cohorts of Frontlines to Power, a program that trains frontline youth to run for office
The timing of this meeting is not to be understated: Power Shift Network has finalized our five-year strategic plan, and have a bold vision for us and for the movement at large, over the coming years. We incorporated the four main themes of this strategic plan into the themes of our Meeting.
We spent time building connectivity through activities that encouraged us to learn more about each other's values, needs, plans looking forward, and interests. We worked on building alignment by reviewing our strategic plan, participated in an activity in which we voted on which important topics to dive into, and then clustered in groups to work together on different issue areas--critical conversations around the topics that matter the most to our diverse organizations.
We also made space to center the leadership development of our frontline and POC youth organizers. Among other things, we imagined how we can transform our Frontlines to Power program to be responsive to new requests, such as developing street teams to do on the ground outreach to frontline communities or develop a Frontlines to Power certification program. We focused on building power of the youth climate movement through collaborating on our next big projects (stay tuned for more!), in ways that reflect the priorities of our members, center and uplift frontline communities, and plug young activists into campaigns.
We had the pleasure of hearing the personal stories of a young organizer who has made an incredible impact on youth climate movement. Elsa Mengitsu shared her experience organizing with Zero Hour, the support she got from our Network, and the power, voice and incredible next steps she developed as she came into her own power.
We came together as a Network, embracing a diversity of tactics and strategies, because we know that our vision will only be realized by working together. To scale our power and make the change we need, we must engage and elevate all perspectives. It takes an ecosystem to win, each piece of the ecosystem owning its niche, its role, and doing it as well as it possibly can, so that the other organisms in the ecosystem can do the same within their roles.
Our movement is only as strong as our collective, and we are the stewards of the ecosystem. We seek to be the connective tissue that helps the movement relate better with itself.
Within the Trump presidency and the rising climate crisis, our strategies and tactics are increasingly important. We're excited to see how the seeds we planted this past Annual Meeting take root and grow--not only  over this next year, not only over the next five years as our strategic plan unfolds, but throughout the continued future of the youth climate movement.