May 19, 2017
How 13 Young Minnesotans are Using this Obscure Regulatory Process to Fight Tar Sands
Enbridge's Line 3 tar sands pipeline would put their futures at risk, so these young people are petitioning for a seat at the decision-making table. Now, Enbridge is trying to silence them.
On Monday, May 15, eight of 13 "Youth Climate Intervenors" appeared in front of the Minnesota Public Utilities Commission's Administrative Law Judge to argue for a seat at the table in the case of Enbridge's proposed Line 3 pipeline "replacement."
These 13 young people, all under the age of 25, are applying for legal standing as suffering disproportionate personal harm from the decision to expand the amount of tar sands oil that Enbridge intends to transport out of Canada on its Line 3 pipeline, on the basis that it will exacerbate the dangerous climate crisis already threatening their health and well-being.
What are they fighting, and why?
Enbridge is requesting permits that would allow them to abandon their crumbling, 60-year-old Line 3 pipeline under tribal and farm lands, and build a larger pipeline through a new route that crosses the most pristine wild rice lakes in Northern Minnesota, along with the headwaters of the Mississippi. This expanded pipeline would increase the tar sands oil traveling across Minnesota out of Canada by a staggering 370,000 barrels a day—which would nearly double the amount of tar sands flowing through the current Line 3 Pipeline.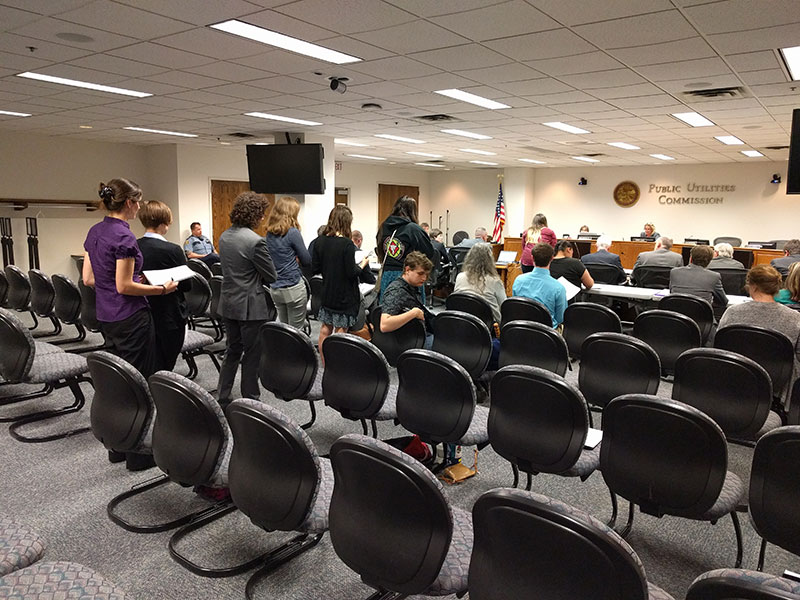 What does it mean to legally intervene?
Individual citizens can apply to intervene in the legal process and demand a seat at the table to more substantively oppose Line 3, if they can prove that the pipeline would directly threaten their rights. 
The 13 Youth Climate Intervenors each bring their own personal concerns about the ways climate change will impact them personally—from the inability to cope with increased food prices, electricity bills, and costs of living, to the excessive dangers of severe heat waves for individuals with pre-existing health conditions, to the disproportionate impact of climate change on vulnerable treaty lands and wild rice lakes guaranteed to the indigenous people of Minnesota.
"We are visitors to this land. As Native Americans, we say: when we visit a place, we must leave it the same as when it was given to us," said youth intervenor Nolan Berglund, a high school sophomore and member of the Northern Cheyenne nation. "I'm fighting for climate justice so my grandchildren, and my grandchildren's grandchildren, can see the beauty that this extraordinary planet has to offer." 
If the 13 young people's petition to intervene is granted by the judge, they are granted "party" status, giving them privileges such as the ability to bring expert witnesses to the case, submit expert testimony, and file "discovery" (requests for information) on other parties—including Enbridge themselves.
Why was Monday important?
On Monday, May 15, the Youth Climate Intervenors had the opportunity to speak in front of the judge and articulate their individual concerns about how climate change would personally impact them. This was the first meeting with the judge that the Youth Climate Intervenors were able to be a part of, officially launching their involvement in the case. 
The Youth Climate Intervenors are 13 of 20 citizen intervenors currently applying for party status in the Minnesota Public Utilities Commission process on Line 3. They are joined by Mark Herwig, a northern Minnesota landowner with property Enbridge intends to construct the pipeline through; Mysti Babineau, a mother, Minnesota resident, and enrolled member of Red Lake Nation; Willis Mattison, the former Minnesota Pollution Control Agency Regional Director; and John Munter, of Minnesotans for Pipeline Cleanup, among many others. The Judge also ruled Monday to extend the deadline for citizen intervenors, so it's likely given the importance of this massive tar sands oil pipeline expansion that more will apply.
What was Enbridge's response, and what happens next?
On Thursday, Enbridge filed an objection to the citizen intervenors' petitions. In their objection, the pipeline company suggested that the Youth Climate Intervenors aren't personally impacted by the pipeline in a unique way, and that therefore the intervention isn't justified. 
Enbridge asserted that climate change is a "general concern" and "not an adequate basis for intervention"—erasing the ways that the climate crisis is a unique threat to the lives of each of the Youth Climate Intervenors. The 13 young Minnesotans are intervening in the first place because their voices haven't been adequately heard in the process, and that no other intervening party fully represents the younger generation. 
"Young people are going to be living with climate change and destabilization our entire lives -- and we already are," said Margaret Breen, a 19-year-old student at Macalester College in St. Paul. "I'm intervening as part of a group of 12 students and young people under the age of 25 who are going to be directly impacted based on the choices we make right now in Minnesota to build dirty energy or invest in clean alternatives."
In other words: unsurprisingly, Enbridge and the intervenors aren't on the same page. 
Now, it's up to the judge to make her ruling: to let these young people speak, or to side with the pipeline company and shut our generation's voices out of this critical process.