September 28, 2016
End the Dakota Access Pipeline by Ending Enbridge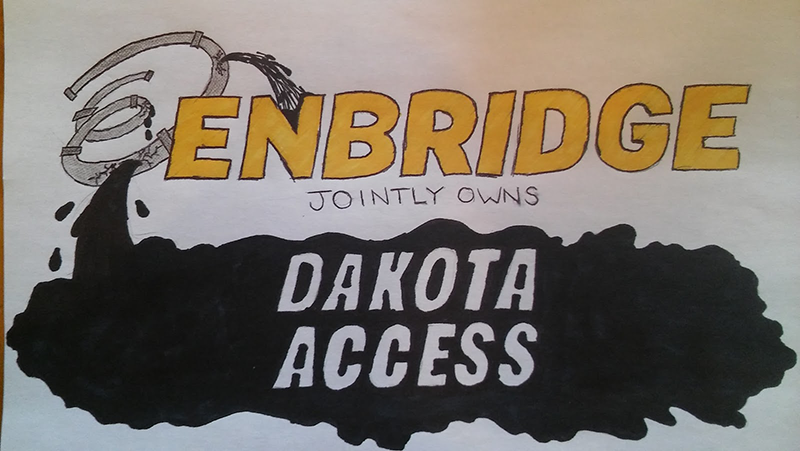 Dakota Access Pipeline is covered in the filthy fingerprints of half a dozen corporate oil giants, but the biggest and ugliest are those of Enbridge. Enbridge Energy Inc., a Canadian mega-corporation, recently purchased a 28% share in the pipeline from Energy Transfer Partners, making them the largest single financial contributor to the project's bottom line.
Stopping the Dakota Access Pipeline ultimately means stopping the exploitative and oppressive corporations that own it. Enbridge is clearly unashamed to support the use of excessive violence—such as the use of attack dogs and the intentional demolition of sacred sites—to ensure their corporate interests take precedence over ecological and human communities.
This comes as no surprise from the company that poisoned an entire community by spilling over 1 million barrels of oil into the Kalamazoo River in 2010, that illegally rerouted oil across the international border between the United States and Canada, and which is currently under federal investigation for installing defective pipes throughout their system.
We must stand united to tell Enbridge that if they engage in dangerous and exploitative business practices anywhere, they will be stopped everywhere. Not all of us can be on the ground in North Dakota, but all of us can be on the ground in our own communities. We can stand in solidarity with the brave Iowan landowners and the courageous water protectors of the Sacred Stone and Red Warrior camps by weakening the corporation that threatens them.
While the Dakota Access Pipeline itself does not run through all of our backyards, Enbridge—unfortunately—probably does. They operate the Lakehead System, a crumbling but pervasive network of oil pipes that run from Alberta, Canada, and the Bakken, North Dakota, through Minnesota, Wisconsin, Iowa, Illinois, Michigan, Indiana, Missouri, Oklahoma, and Texas. Additional lines are buried under corridors in New Hampshire and Washington. Enbridge also recently purchased Spectra, the despised parent company of the AIM and Sabal Trail Pipeline projects in New York and Florida, respectively.
While the Dakota Access Pipeline itself does not run through all of our backyards, Enbridge—unfortunately—probably does.
But even larger than Enbridge's network of pipelines is the network of people standing up to them. In every state, every move Enbridge makes has been met with determined opposition in the courtrooms and in the streets. Ordinary citizens have intervened, filed lawsuits, marched, testified, and researched—and just last month, Enbridge was forced to cancel plans for a new Bakken oil pipeline through northern Minnesota. Everyday people delayed, argued, and opposed until their rights were respected—and Enbridge admitted defeat.
We will defeat the Dakota Access Pipeline too, by eroding Enbridge's capacity, financial resources, and social legitimacy. We will tell every court, judge, jury, newspaper, neighbor, and elected official that Enbridge has no right to receive permits for any of their operations based on their history of irresponsible business practices, blatant disregard for climate science, and obvious lack of financial stability in a 21st century clean energy economy.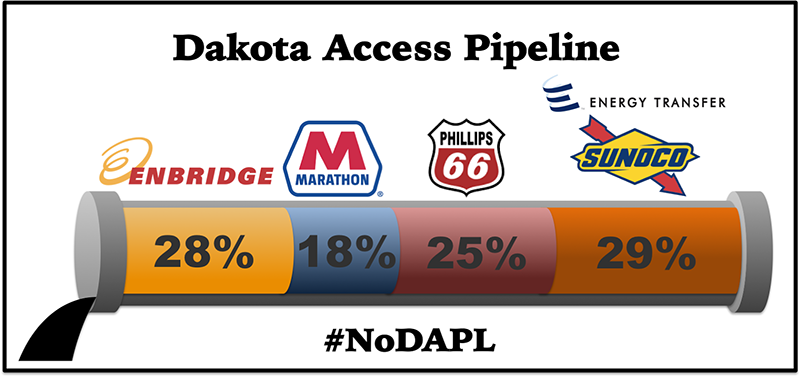 Oil extraction from Canada's tar sands and the North Dakota Bakken fields are Enbridge's desperate last attempt to cling to an energy economy that is no longer viable. Their power will only diminish, while our movement's will only grow. And they know it. Their violence and evasion of honest regulation betray their fear, and affirm the success of our movements. Every delay we win is another opportunity for someone else to set a precedent that could defeat our opponents. Every creative action we take is another tool we have given our companions and allies. Every swing we take at Enbridge is a swing at Dakota Access.
Enbridge's power will only diminish, while our movement's will only grow. And they know it.
While it is vital that we continue sending our support and donations to the Sacred Stone and Red Warrior camps, we must also dig in with our own communities to do our part in dismantling their adversary.
Young people have been and will continue to be at the forefront of these fights. Our generation refuses to be cursed with inheriting crumbling and poisonous pipelines. On behalf of our water, land, communities, and climate, we will challenge business as usual until the Obama Administration agrees to honor our right to a livable future, and revoke the Dakota Access Pipeline permits once and for all.