February 7, 2020
Announcing Power Shift 2021!
Power Shift 2021 is coming to New Orleans April 16-18th, 2021!
The only thing powerful enough to meet the urgency and scale of the climate crisis is a powerful movement of thousands of trained organizers willing to invest everything they've got to the future they deserve. That's why we're thrilled to announce our next Power Shift convergence, which will take place April 16-18th, 2021 in New Orleans, Louisiana!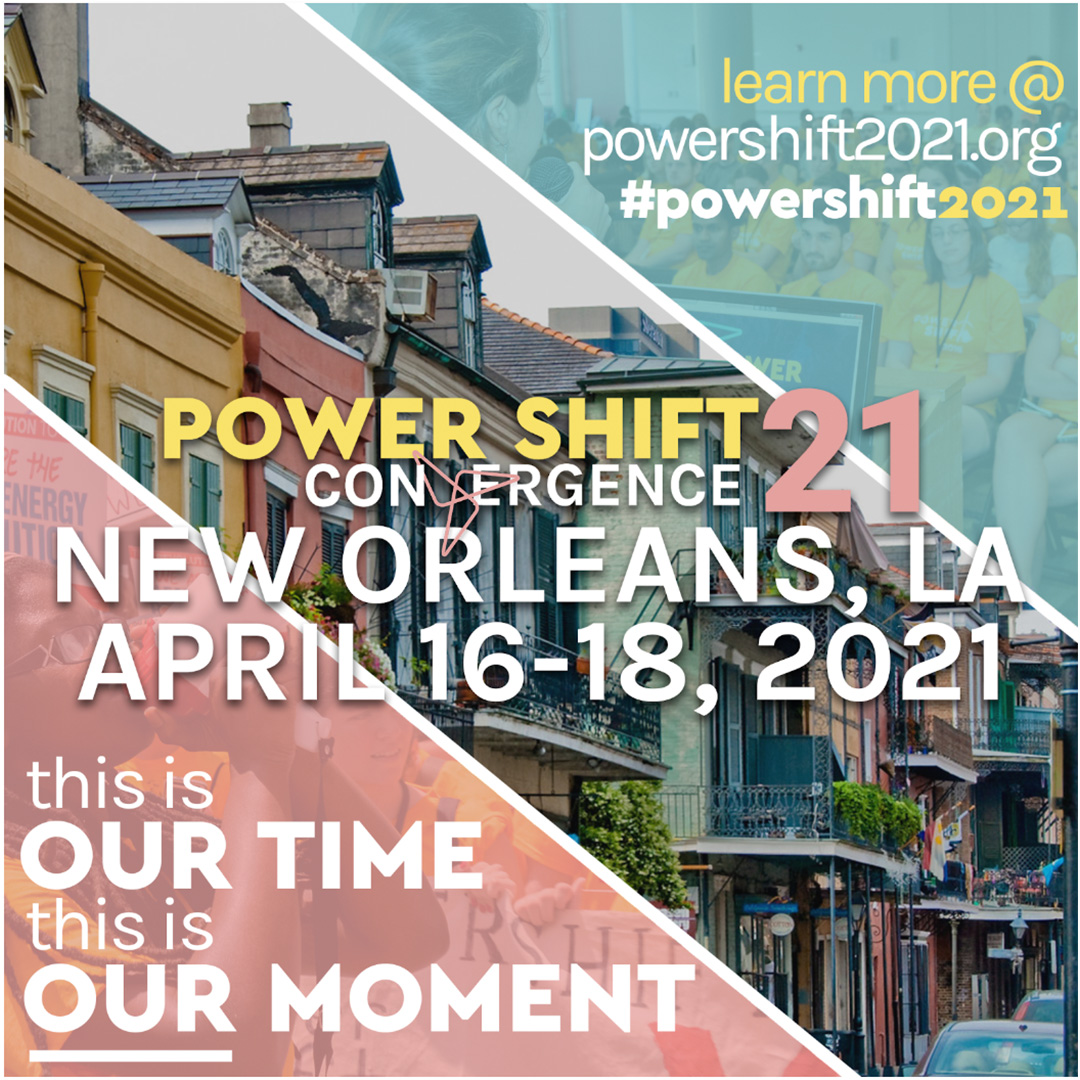 Between 2007 and 2013 Power Shift convergences, training and empowering thousands of youth climate activists to learn, strategize, and catalyze the youth climate movement. In 2016, Power Shift went on the road, hosting four regional convergences. Power Shift 2021, will take place April 16-18th, 2021 in New Orleans, Louisiana. Power Shift Network is working with a broad coalition of young people, climate activists, and organizers for cross-sectional movements using the opportunity to train young people in event organizing, recruitment, fundraising, communications, and other core skills to build their capacity and talents as change makers. 
NOLA, along with the rest of the Gulf Coast, is one of the regions most heavily affected by climate change in the U.S. Since Hurricane Katrina, NOLA has been a hub for communities building climate resilience — and has lots to teach us about building justice into climate recovery. Part of why we chose New Orleans is because it is a shining light of the power of organizing, but also because there is still so much work to be done. 
The Gulf Coast is also home to a slew of oil and petrochemical refineries that not only create toxic environments for the folks living there, but also produce "goods" that are endangering the whole planet, like gasoline and plastic. And at the same time, resistance in Cancer Alley has been a model for environmental justice organizing work around the country, where activists along the Mississippi River from Baton Rouge to New Orleans successfully resisted numerous industrial facilities that were contributing to skyrocketing cancer rates. Today, we're seeing powerful work to preserve culture & fight for housing justice, environmental justice, & climate resilience across New Orleans. We're thrilled to share that we have received a blessing from the United Houma Nation, a group indigenous to the region, to host Power Shift in New Orleans and work with local activists to use Power Shift 2021 as a tool to build youth momentum for social justice work across the region. 
Want to support this work? Check out how you can get involved: http://powershift2021.org/get-invovled