June 1, 2017
6 Poems for Climate Justice y la Resistencia
Note: This poetry series was inspired by the SustainUS Creative Challenge and is dedicated to artivists around the world that have resolved to take the people's narrative into their own hands. Before we can begin to build the future our communities deserve, a cultural of resistance must permeate all aspects of our popular culture from films to music and everything in between! Let us come together as healers, teachers, land defenders, and warriors as we continue to struggle for the dignity of our people and Mother Earth in this tragic/beautiful life.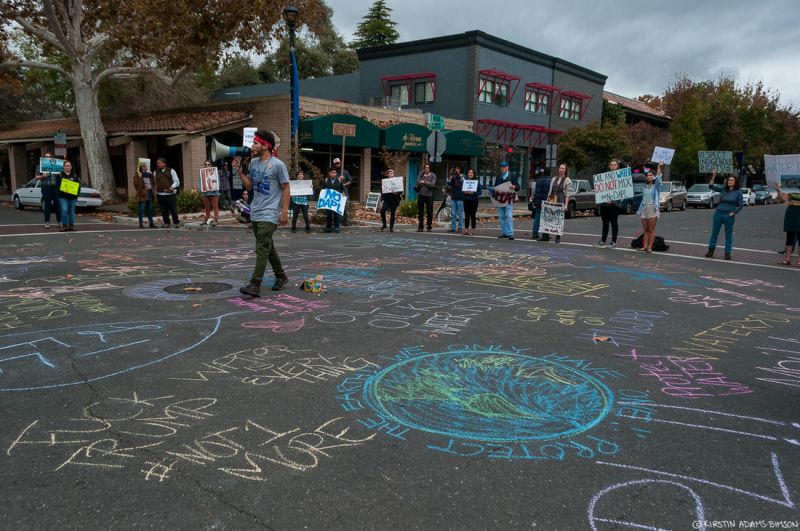 Can't Live Without Hummus
I didn't really care at first
About things like global warming.
Until I heard those fateful words
"Not a threat, a warning."
How can we live a happy life
Without coffee in the morning?
It's bad enough the seas will rise,
But not my guacamole!
Professor says crops will be dead
"The needs of plants will not be met."
What will we do, when our kids can't be fed?
We pray for rain, it hurricanes instead…
When our mountains run ablaze,
What will happen to our firemen?
I can't live without hummus…
Gotta save the environment!
Mi Amor
I'd do anything for us,
I've already risked arrest.
Can't survive without you,
since day one I've been obsessed.
You're the ice in my tea,
the sweat on my brow when I'm out.
To live without you
is perpetual drought.
Please forgive these transgressions,
we took you for granted;
locked you up and sold you off;
objectified and branded
The most powerful force,
yet sweetest embrace.
Most valuable treasure
on Earth and space!
To think mere men
attempted to subdue,
but why can't everyone
know you like I do?
You give me life.
Oh! How I crave your feel;
Completely rejuvenated -
nothing less than ideal.
Now your absence
has caused many a war.
Perhaps one day
we'll have water galore…
Chayote y Libertad
Somos la gente del maíz,
Eso no nos pueden quitar
Somos hij@s del cielo
La tierra y el mar
Nunca fuimos quietos,
Sólo sabemos luchar
Y aunque no nos cuentan nuestra propia historia
No se puede esconder la verdad
Tenemos tatuados en nuestr@s almas
Sueños de chayote y libertad
Chop Chop Chop
Carrots, onions, parsley,
Chilean mountains ablaze
Bring the water to a boil
New Delhi heat waves
Toss in the beef;
Two kilograms of meat
Salty, brothy, seas
Rising two feet
Donald Trump wakes up at 6am
Donald Trump wakes up at 6am
Ready to kill and cause mayhem
As the sun rises over the West Wing
Toast is buttered - song birds sing,
But before 45 can have a taste
Water washes over a pasty face
Dry cleaned socks, shined shoes rest on the ground
Ties his tie himself, no Melania to be found
Donald Trump wakes up at 6am
Ready to kill and cause mayhem
Vitamins for breakfast, old bones starting to give,
But nothing will take out the master of fibs!
Not before a million are deported, $10 billion is extorted
Outlook of the country = nothing less than morbid
Alt-facts if CNN says we're a people in distress
In about two hours, Spicer briefs the press:  
Donald Trump wakes up at 6am
Ready to kill and cause mayhem
Fully refreshed after a good night's sleep
Dreams of oil rigs drill so deep
Fresh cut grass, smell of napalm in the morning
Arab villages gone with no warning
Less pensive than Pence is, Celebrity's Apprentice,
Truly horrendous... The 'Merican menace
Donald Trump wakes up at 6am
Ready to kill and cause mayhem
And so too must the resistance practice persistence,
Wake up before Don to ensure our existence
I am my planet's keeper
I am the dreams of my ancestors, growing more vivid by the day
I am the boat that ferries my people over shark infested waters
I am the candle in a sea of darkness, forever lighting the way
I am the sage against the machine, cleansing society of its ills
I am the yerbabuena my abuela cultivated to cure all illnesses
I am the roots that refuse to stay buried…
I am a stalk of corn rising higher than confederate statues
I am my grandmother's pot of beans ready to nourish a whole generation of freedom fighters
I am the sledgehammer to Trump's wall
I am the monkey wrench that shut down the pipeline;
I am the computer virus that stopped production for a whole day!
I am the clenched fist; bloody, but unbowed
I am the guerrilla gardener on the streets of Huntington Park
I am the rage of a neighborhood when our street vendor is arrested
I am Trayvon's hoodie positioned between the world and him
I am the seventh generation
I am the encrypted message, surfing the web from server to server
I am the caged bird that sings of freedom
I am wire cutters, sent on a mission to liberate
I am the scorching heat of a Molotov cocktail; hot enough to melt ICE, and warm my people for years
I am the flesh wounds of water protectors in Standing Rock
I am the lead pipes in Michigan
I am the ghost of the West African black rhino; extinct, but not forgotten
I am a red bandana – the first, and only, line of defense between a farmworker and toxic chemicals
I am the dying cries of the Great Barrier Reef
I am the graffiti on a gas storage tank
I am the dissident in a black mask
I am the resistance